It seems crazy, but four years ago today, on 15 February 2012, the concept album for The In-Between was released. Wow, does time fly. It really doesn't feel like it can be that long ago that I was sitting at my computer clicking load, with that strange mix of anticipation and trepidation you get when you send something you've spent literally years creating out into the ether, for people to hear and judge, or completely ignore.
It was a bit of a surreal time, looking back. I was exhausted. I'd been working pretty solidly on the album for about six months, much of which was new territory for me and a steep learning curve on everything from production to marketing. It was the first time I'd recorded something in a professional studio, and it was the first time I'd worked with most of the actors – actors who I'd seen being incredible in West End shows, performing songs most definitely written by proper grownups who knew what they were doing. And here I was about to release an album with them singing mine.
Surreal, yes.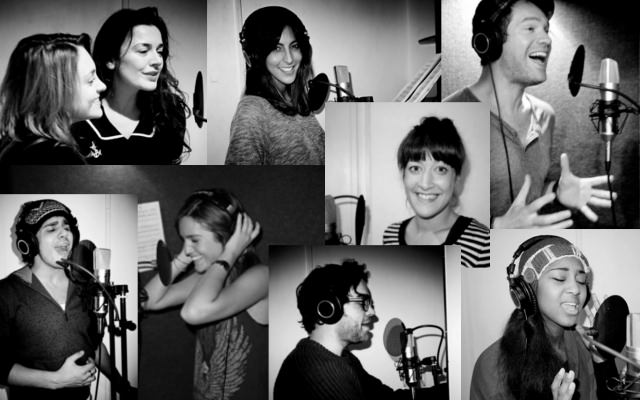 Also, it must be said, it was awesomely exciting. It was the kind of thing I'd daydreamed about. But, it's weird, I think when that kind of daydream thing actually happens, there's this extent to which you can't really feel that excitement about it until after the event. I'm an inveterate worrier and there were far too many things to actually do, or to worry about going wrong in spectacular fashion and I think a lot of it became this big hyper, anxious blur…
One thing I do remember, though, on the side of excitement, was looking at YouTube on the morning of the release. I'd loaded the tracks up to the channel I'd set up for the show the night before. I did this a day early because I'd never done it before and feared it may all go horribly wrong – hence giving myself a little leeway time to try to correct any potential catastrophe. But I hadn't really expected anyone to find them much at all, and especially not before any of the press. When I logged in on release day to check it was all working okay, I remember that 'Beyond the Door' had been viewed seventy-five times already and, even more incredibly, received positive some comments. Now, I realise seventy-five is a relative pittance in YouTube terms, but, to me, then… it felt pretty amazing. These people I'd never met had somehow found and listened to my song, and liked it. Not many things can beat that feeling when you're starting out trying to be a composer.
Over the past four years, quite a lot has happened with the show. It hasn't been fully staged yet and there's no news on that (sorry!), but yes I am still hoping it'll make it there one day. However, there have been some pretty cool (and still extremely surreal) happenings though. For starters, that seventy-five views is now over a hundred thousand for 'Beyond the Door', some of the songs were performed at West End Live in Trafalgar Square and 'She's My Sister' was played on the Elaine Paige show on Radio 2 whilst my family was eating Sunday lunch (possibly the height of the surrealy-ness).
The biggest thing for me, though, has been something I never expected to happen – and didn't even really consider on that release day four years ago. From quite soon after the album came out, various people started asking me if there were sheet music or backing tracks available for the songs. At the time, there weren't. I suppose I just hadn't really thought people would want them for a show like mine, that wasn't famous and hadn't been put on anywhere. I had no idea how to really go about doing it practically either. But people kept asking and later that spring I found a platform I could use to make them available for download. I tidied up the scores and released 'Someone You'd Be Proud Of', 'Beyond the Door' and 'She's My Sister' first – again, maybe this sounds stupid, but I just wasn't sure people would want them all – and then the other four tracks from the album in the autumn when the first ones seemed to go down well. Since then, it's steadily kept growing and they've, somehow, now collectively sold thousands of copies, in numerous different countries. I've heard from so many people who have said they're singing these songs for auditions or in concerts, and it's just the most incredible thing to me. Singing and playing musical theatre songs with my friends was so important to me, especially while I was studying music, and to hear from people who were now doing that stuff with music I'd written… I don't know. It makes me 😀 I think there's still some part of me that doesn't quite believe it and suspects my mother is behind it all so I don't feel bad.
So, what now? I don't really know where things are going for the show, but I suppose what I want to say, four years on, is a big thank you to everyone who's helped it get to this point. Thank you to everyone has sung it with their friends or in a concert or audition, to everyone who has supported the show, who's shared about it, and to those who helped make the album in the first place. You are, truly, spectacular.
Laura x
Twitter: @LauraTisdall
Facebook: LauraTisdallWriter